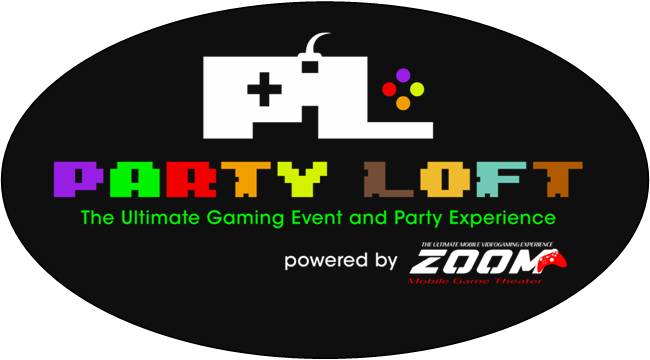 Q. How Many People can parties accommodate?
Our game room and karaoke theater can hold up to 50 guests. Our video game parties allow up to 32 to play at one time, with 8 large screen tv's.
Q. Is there an age limit to the gamers?
While people can start gaming at a very young age, we ask that our attendees be able to take direction from our Game Coach. We can provide a party for 6 yr old guests as long as there are parents or older siblings helping inside the theater during the party, otherwise we recommend parties for kids 7 yrs old and up.
Q. Is it required to tip the Game Coach?
While tipping is never required, it is always appreciated if you feel our Game Coach has done a great job for your party or event.
Q. How much do events cost?
We believe you always get what you pay for and when it comes to your child's party experience we have spared no expenses with our video game and karaoke theater. We provide you and your guests with the very party entertainment in the business. We want to be known as the best of the best in the industry by providing the ultimate experiences for your kids, friends, families or co-workers. We offer the largest and highest quality televisions, next-generation gaming systems and the latest games that kids want to play. For pricing, see our party pricing page.
Q. Do we need to supervise the party?
While parents or others are always welcome to observe or participate in the fun, it is normally not necessary, however we do ask that at least one adult/host be present to help supervise the party. Every Party Loft KC party/event includes one of our highly trained Game Coaches who will run the event for you.
Q. Are food and beverages allowed?
With your rental of Party Loft KC, you will have access to a designated area for food and drinks. Due to our high quality theater and our commitment to the cleanest and most prestigious party place in our industry, we do not allow any food or beverages in our game theater. We will make accommodations for drinks during "Karaoke Only" events.
Q. What video games are available to play?
We carry a fairly comprehensive selection of the latest and most popular video games ranging from E to M in ratings. You are welcome to bring in any of your games from home if we do not have a particular game your child enjoys. Video gaming, in general, is meant to be a social experience so most of our games are multi-player games. Some are able to be linked together for an even more competitive and social gaming experience.
Q. What is your cancellation policy?
A valid credit card or debit card is required to guarantee and pay for your Party Loft KC reservation. There will be a $50 cancellation fee for all parties or events cancelled after payment is received. There will be a $100 cancellation fee for all parties or events cancelled after payment is received and within 30 days of scheduled event. NO REFUND in the event of 1-2 hour party reservation being cancelled within 14 days of your event. NO REFUND in the event of 3+ hour Event reservation being canceled within 30 days of your event. We will make every effort to postpone your event, with no penalty, to another date should cancellation be necessary.
Q. Do you provide mobile party entertainment?
Party Loft KC is a fixed "brick and mortar" establishment, but our mobile party entertainment trailer, Zoom Mobile Gaming, can come to events all around the Kansas City area. The Zoom Mobile Gaming trailer has numerous large screen TV's inside and out, allowing multiple players at once. Zoom Mobile Laser Tag brings the fun of the "battlefield" right to you, indoors or out! Check us out here!